April 2016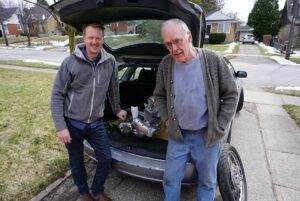 This winter I took my lump over to Herb's Garage. Herb Becker that is, engine builder of the bike that won first place in the 2003 AHRMA's Formula 750 races in Daytona. Oh, he also makes things like the double engine supercharged 'Double H'.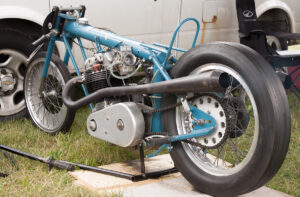 I managed to talk Herb into a full rebuild on my engine. I was concerned about the off-idle knock, the general leakiness, and occasional smokiness of the engine. Perhaps he felt somewhat responsible for the bike as I bought it from him as a rolling basket!
Good news was the pistons and barrels were in great shape, they are already .020 over from some previous owner. It needed a crank grind and I had the dubious distinction of having the worst crank wear that Herb has seen (ahem – he sold it to me!). It was an even 30thou down from what is normally a thou. The wear was even, not oval (?!). The shells were worn down to copper, barely a trace of Babbitt left on them.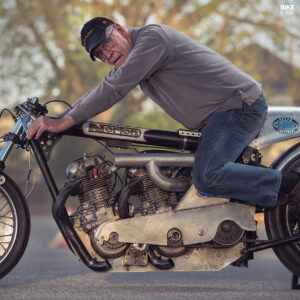 I joked and said "I guess I shouldn't have been taking it up to 6500!" Herb's response was "You shouldn't have been riding it!"
The head received a set of new valves (brand?), seals (guides?). The gearbox was rebuilt (parts?)
He presented me with a box of used bits, keeping my old valves for building some very early Harley replica engines he fobs off to Muricans.
The Sparx 3-phase rotor has lost all magnetism and the stator is falling apart having lost most of it's epoxy coating which was lying in bits on the bottom of my primary. The alternator was purchased in Janary 2005 and used for less than a thousand km per year (the last three years probably less than 400km/yr), the bike has been stored in a heated indoor garage. I contacted the owner of Sparx and he didn't seem to care or offer any discount on a replacement.
"hi philip
it sounds at first glance that the rotor may have been rubbing the stator for it to de-magnetise is very rare however i didnt sell you it and it has been a long time so i cant help
andy"
I am pretty disappointed at the response and don't recommend the product. I reinstalled the original 45 year old Lucas equipment which still works like a charm.
I can't wait to put the engine back in the frame and to finish the new red paint job I've been working on.
It should be a good year for riding!