I've slowly replaced most of my bulbs with LED. All the cabin lights were switched over two years ago and I finally properly installed the LED strip lighting in the main cabin. I'll work on the bathroom with a dimmer this summer. I can't believe how much nicer indirect lighting is.
The navigation bayonet bulbs in the bow and stern were replaced last summer before we left on the trip, leaving only the navigation and anchor lights at the top of the mast. I didn't replace these because I couldn't easily access them. (see bosun's chair post), ok, I could have gone up on a crane but it wasn't that big a deal.
When the mast was stepped last summer for our trip up the Trent Severn, the nice young lad at CFB Trenton Yacht Club swung the mast into the hull, cracking the mast-top navigation/anchor light (Aqua Signal 40) against the hull while wheeling the mast away. This cracked the base of the fizture and a bulb fell out and broke. Then another bulb fell out in transit. I ended up buying one LED bulb from a local chandler for about $40. Yes, I was being cheap only buying one. It stopped working after a few weeks… not sure why.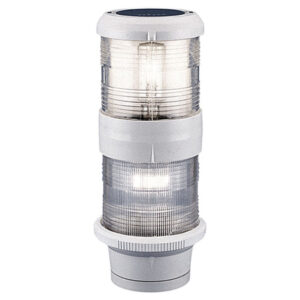 All that is to say I've ordered a handful of cheap lights from AliExpress. Most are designed to be car signal lights.
The visibility specs are 3nm for top-nav and 2nm for anchor light. How this translates into Lumen, I don't know but I did see the number of 300lm somewhere.  I would assume brighter is better… most of the car lights are very white 6000k vs 3500k, and very bright 1600lm.
The Aqua Signal lamp takes two BAY15D bulbs, (offset pins, double contact). I bought the following and will up date later on how they perform.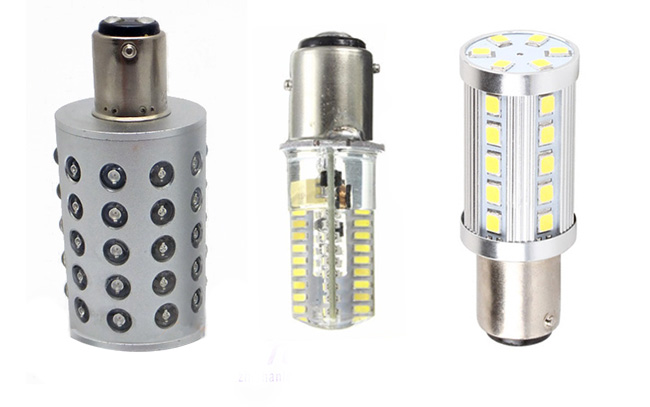 Left ($16) and center ($4) are advertised as Marine bulbs each 3w. Right ($4) is a parking bulb, 2w.