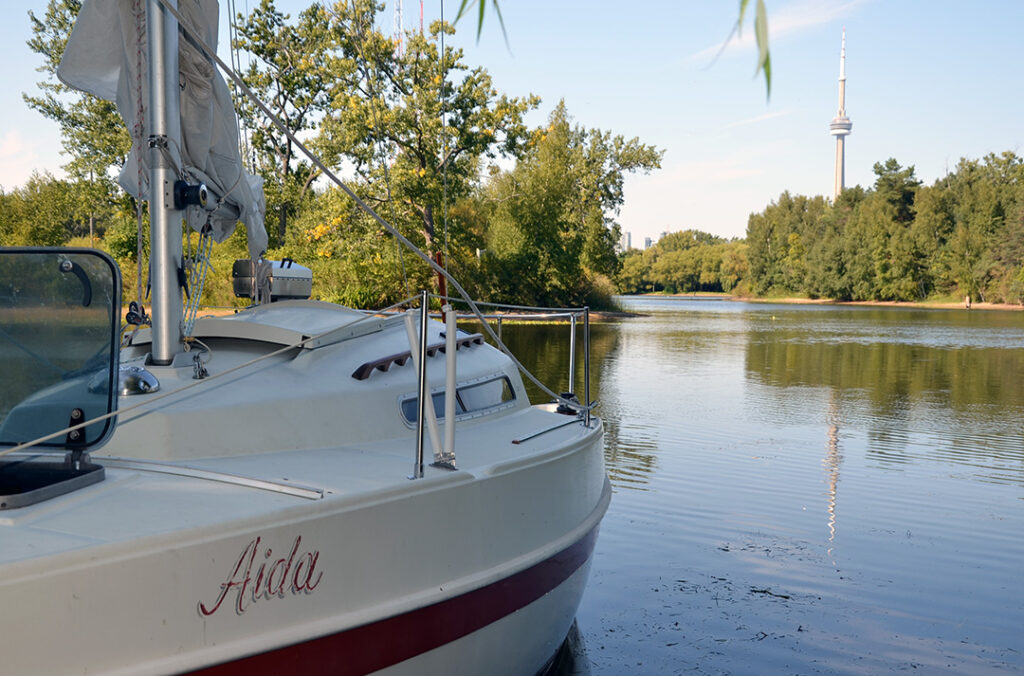 Yes, Aida, a 1982 Tanzer 7.5 is for sale! The best bargain on Lake Ontario. This is an excellent example of this boat, unlike most boats of this age she hasn't been molested, trashed or neglected. This Tanzer sailboat was the floor model at the Toronto International Boat Show and has been kept in excellent condition. The interior and deck is clean and original – no multitude of screw holes, speakers holes, missing stereos, phantom devices etc.
Asking price: $ 5,500 or best offer. SOLD
Contact: Philip
Location: Toronto, close to Outer Harbour Marina
Launch Date: April 20th, unless trucked away before. Will still be for sale in the water!
If you are looking for a boat to drop into the water and sail this season- this is the one! If you want a fixer-upper, keep looking as there are plenty on the market.
Most systems have been upgraded or replaced within the last two years. In no particular order: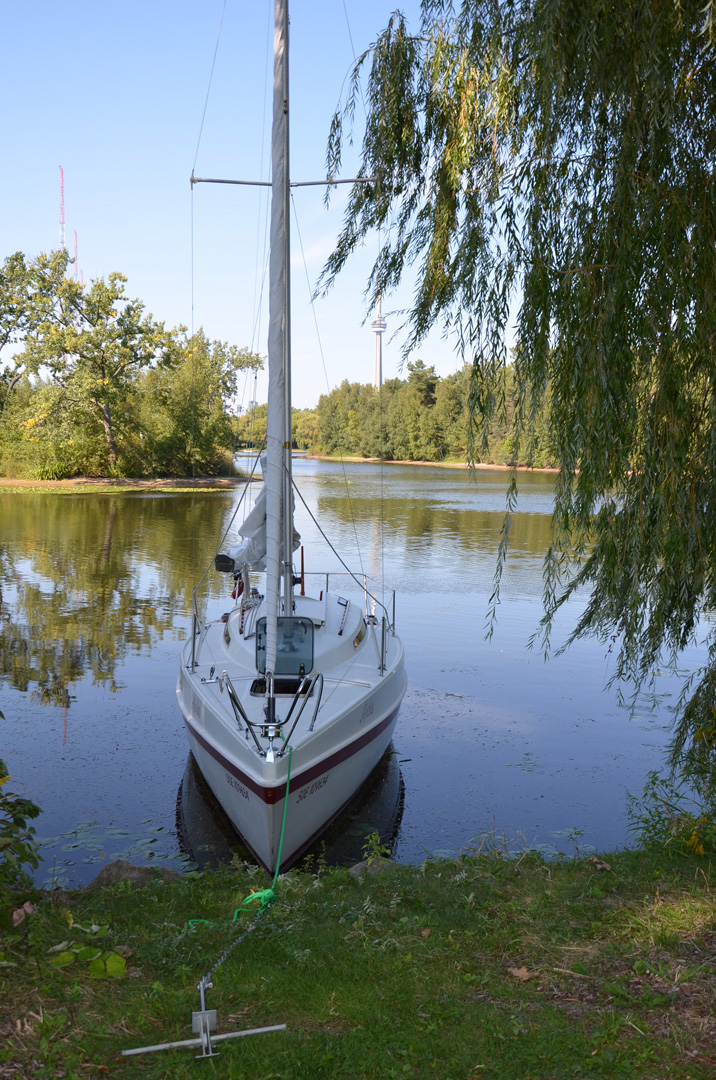 New Plastimo compass – 2012
New manual Jabsco toilet – 2012
All new hoses, double stainless clamps with added anti-siphon loop – 2012
Holding tank cleaned and tank attachments resealed – 2012
All fresh water hoses replaced- 2012
Windows replaced with new acrylic, new original specification gasket material and sealed in original frames – 2011
New main sheet, boom vang lines & Harken tackle – 2011
Exterior teak (motor mount, tiller, winch pads, hand-holds, hatch boards etc.) varnished with Cetol – 2012
Bottom has

epoxy barrier coat

with fresh red VC17
Hull polished to mirror shine – yearly
New steaming light – 2012
New cockpit cushions – 2012
Hatch shimmed – 2011
Chain plates resealed – 2012
Life-line stanchion and base-plate replaced – 2013
Life-line ends replaced with stainless from brass – 2012
Standing rigging replaced by previous owner – (date unknown)
Winches overhauled – 2011
Dimensions
L.O.A.: 24′ 7″ (7.50 m)
L.W.L.: 21′ 10″ (6.65 m)
Beam: 8′ 0″ (2.44 m)
Draft: (fin) 4′ 0″ (1.22 m)
Displacement: 3800 lbs. (1725 kg.)
Ballast: 1600 lbs. (725 kg.)- cast iron
Sail area: 225 sq. ft. (20.9 m²)
Vertical clearance: 32′ (9.75 m)
Headroom: 5′ 9″
Berths: 4
Rating (PHRF-LO) : 231
Galley
Stainless bar sink, drains via through-hull
hand pump, fresh water tank – new hoses – 2012
Icebox with holding tank – doesn't drain into the bilge!
original gimballed two burner alcohol stove (does anyone use these?)
Engine

Johnson Sailmaster 9.9 hp longshaft outboard
Electric start– one push starting!
Garelick aluminum Motor mount – spring loaded (easy to raise)
Impeller replaced, prop and lower end refinished – 2011
Good compression, new spark plugs – 2012
Electrics
Deep Cycle Marine battery (Nautlis 625A 80min) – 2008
Separate panel for additional breakers
VHF radio– yes it works!
Depth meter- Uniden– yes it works!
electric bilge pump – discharges at stern- – yes it works!
shore power extension cord
wired for 120v AC with circuit breakerSails
Original sails in good condition, restitched and repaired – 2012
150% Genoa on Furlex roller furling- sail has white UV cover.
Main – includes reef points, lazy jacks.
storm jib
Extras
Folding Steel Cradle for winter storage
New dock lines – 2012
Galvanized steel Danforth anchor & rode, rail-mount anchor bracket
4 Fenders with brass clips
Sunbrella outboard motor cover
Main sail cover
Teak bathroom rack
Magazine & cup racks
Varnished wood sink cover
Teak bug screens for hatch and companionway